Hi everyone,
So today I have been doing some spending that I cannot afford... oops. I have been seduced by some new high street foundations that I've seen advertised and wanted to give them a go. Did it stop there? Well... no....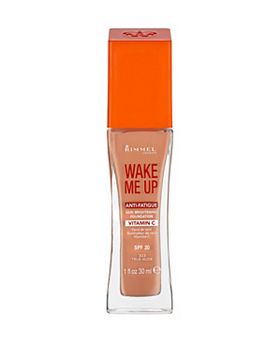 First off I went to Boots and had a look at the Rimmel 'Wake me up Foundation' which claims to take away the fatigued look (which being a student I definitely need) and give a glow. Now although I have combination skin with a fairly oily T-zone I actually prefer a glowing look to my skin as opposed to matte for general everyday wear. I mainly snapped this up because it was on a special offer for £3 off meaning that I got it for £5.99. I got mine in the shade True Nude. I will of course update you with my thoughts on it at a later date.
You can pick one up, for the special offer price
here
Whilst at the Rimmel stand I also noticed the Kate Moss collection of lipsticks which completely passed me by until recently. I picked up the nude colour which is No. 3. I love a pink toned nude so I picked this up for a pound off (£4.49)
This is a small close up of my lips with the lipstick on (as the rest of my face looks awful!). I really like it and think it rivals some of my MAC nudes (Plink, Hue, Viva Glam V) in terms of consistency, longevity and how flattering a colour it is.
Again, for the reduced price pick one up
here
So after that needless spending I decided to carry on and headed over to Superdrug whom I knew had Maybelline's new 'Dream Nude Airfoam' foundation for £2 off. I have been intrigued since seeing all the adverts which are constantly popping up everywhere and have heard good reviews on what seem to be similar skintypes to mine so I thought it was worth a go. Like everyone says, you do need to only press the pump slightly as a load comes out at once. I haven't yet tried this on my face but the consistency seems nice on my hand; a fairly light coverage foundation but it looks like it could be buildable. As with Rimmel's offering I will keep you posted!
To get yours on the Introductory price click
here
And finally on my beauty spending spree was a genuine repurchase of a necessity! This was L'Oreal's Infallible Eyeliner in Choc (or the brown one as it is known to me). I purchased this a few months ago after having a mini breakdown when I realised that Boots had stopped stocking Prestige products. Up until this point Prestige was the only brand whose kohl eyeliner I trusted to stay on my waterline with no smudge or panda-like effects. I searched around and actually one of the shop assistants recommended me the L'Oreal one as being budge-proof. I have to say I totally agree. It creates a lovely smokey effect (which I find easier to achieve with a brown rather than black) and really does not smudge all day. I love it. It has actually meant that I have stopped wearing winged black liquid liner on my lid every day in preference of a softer look where I line my tight line and water line and then just use mascara. I cannot recommend this enough!
So have you tried any of these products? If so what did you think? What beauty products have got you spending your money this week?
Frances x